Labuan IBFC is the Best Asian Domicile for Captives
The midshore jurisdiction was the award recipient for the Asian Domicile category at the inaugural Asia Captive Review Awards 2018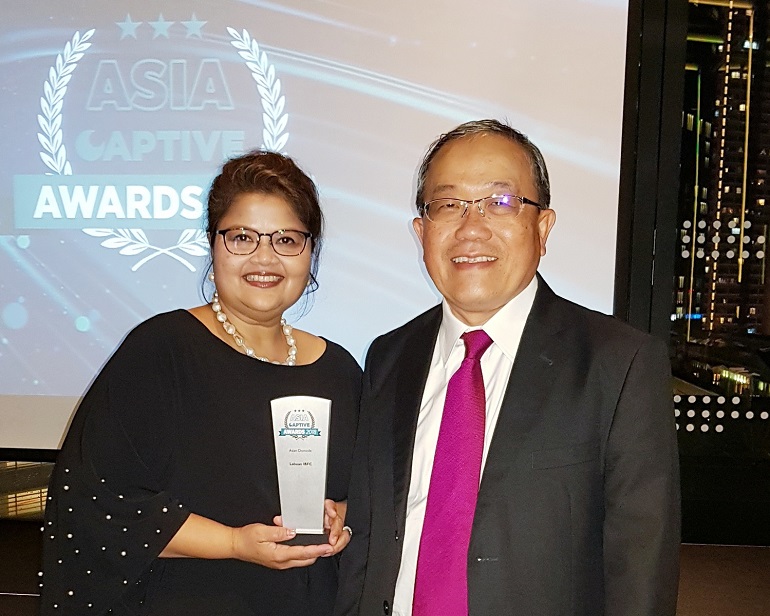 Kuala Lumpur, 6 August 2018 – Labuan International Business and Financial Centre (Labuan IBFC) won the best Asian Domicile award at the inaugural Asia Captive Review Awards 2018 held on Aug 1.
The Awards recognise and reward service providers, captive owners and risk management professionals for their exceptional services and approaches to captive insurance in the Asia region while the Asian Domicile category is awarded to the jurisdiction that demonstrates the highest standards of regulation, accessibility, efficiency and commitments in promoting the captive insurance business in the region.
"It is another great milestone for Labuan IBFC and it means a lot to us. We are grateful to all of the owners of our Labuan captives that have used Labuan IBFC's structures and offerings as your "port of call" for your captive insurance. You are the ones that made the award possible," said Director-General of Labuan Financial Services Authority (Labuan FSA), Danial Mah Abdullah at his welcome remarks at the second day of The Asian Captive Conference 2018.

He added: "The Labuan captive business has come a long way since its humble beginnings in the 1990s under the then Labuan Offshore Insurance Act. The first Labuan captive company was established in 1998 which is still in operation today. Since then, the business has thrived from strength to strength and in more recent years, Labuan IBFC has become one of the fastest growing centres for the captive business in Asia. In fact, captive is now a key business sector in Labuan, and is the second highest premium contributor to total premium flows in the Labuan insurance industry."
CEO of Labuan IBFC Inc, Farah Jaafar-Crossby said, "We are extremely proud to receive the Asian Domicile award, which is a testament to our unwavering effort in advancing awareness and growth of captive insurance industry in the region. Labuan IBFC approved the most number of captive entities in 2017 compared to other Asian jurisdictions and we are hoping to sustain this encouraging trend over the next few years."
Farah went on to explain: "To date, Labuan FSA has approved a total of 47 captives and four are new approvals for this year. Which effectively means that in the first half of 2018, Labuan FSA has already approved the same number of captives it did for the entirety of 2017."
"Most of our captives are with parent companies that originated from the Asia region and in fact, the first captive incorporated in Labuan IBFC is from Hong Kong. This shows we are truly an Asian jurisdiction for Asians," Farah added.
ABOUT LABUAN IBFC
ASIA PACIFIC'S MIDSHORE INTERNATIONAL BUSINESS AND FINANCIAL CENTRE

Labuan International Business and Financial Centre (Labuan IBFC), Malaysia, through its internationally recognised yet business-friendly legal framework, is the preferred international business and financial centre in the Asia Pacific region.

It offers global investors and businesses the benefits of being in a well-regulated jurisdiction, while providing for fiscal neutrality and certainty, in addition to being an ideal location for substance creation.

Labuan IBFC boasts a wide range of business structures and investment solutions catered to cross-border transactions and international business dealings. It offers services and solutions in niches such as asset leasing, risk management, commodity trading, wealth management, international business companies and Islamic financial services to global businesses looking at penetrating Asia and Asian entities aiming to go global.

Labuan IBFC operates within clear and comprehensive legal provisions, guidelines and practice notes, enforced by a single regulator, Labuan Financial Services Authority.

To keep up with everything about Labuan IBFC, follow Twitter or Facebook @LabuanIBFC. Alternatively, visit www.labuanibfc.com